05 Dec

The second annual "New Works for the New Year: The Lovewell Songbook Volume 2"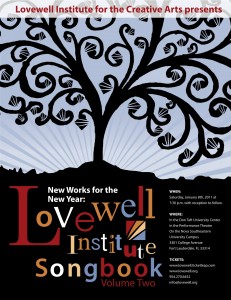 WHAT: All alumni, former staff, board members and current students are invited to be part of our second annual "New Works for the New Year: The Lovewell Songbook Volume 2."  We will be presenting the first publication of volume one of the songbook, singing all new songs that will be going into volume two and welcoming the new year in with a bang. It will be an evening of reminiscing, celebrating and looking forward.
WHEN:
Performance on Saturday, January 8th, 2011 at 7:30 p.m. with reception to follow
WHERE:
In the Don Taft University Center in the Performance Theatre
On the Nova Southeastern University Campus
3301 College Avenue
Fort Lauderdale, FL 33314
TICKETS:
Please note that seating is limited to 200 seats.  Purchasing tickets in advance is highly recommended.

BIG NEWS: We will also be releasing the CD that accompanies Volume One of the Songbook and there will be a viewing of our international original Lovewell music video, "Dreams and Imagination."
DO YOU WANT TO BE A PART OF THE EVENT?
There will be 4-7 group numbers that everyone is invited to be a part of and perform.  You can download the music HERE. We will hold rehearsals on Thursday, January 6th from 4-9pm, Friday, January 7th from 2-9pm and Saturday, January 8th from 11am-5pm.  You are welcome to pick and choose to numbers you would like to be a part of as there is a detailed rehearsal schedule that will help you to plan accordingly.  Performers are NOT expected to be present for all rehearsal times.  Please email Associate Artistic Director, Carrie Gilchrist, at carrie@lovewell.org if you would like your name added to the list of performers and a copy of the detailed rehearsal schedule.
PURCHASE SONGBOOK VOLUME ONE:
If you would like to purchase a copy of The Lovewell Songbook Volume One and the accompanying CD, you can do so below.