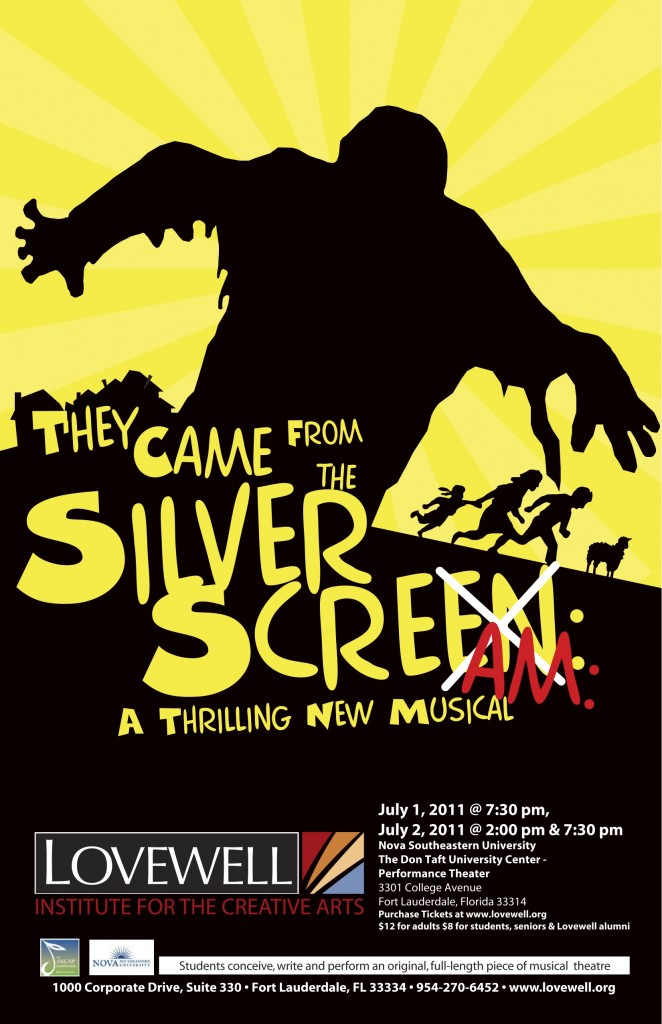 THEY CAME FROM THE SILVER SCREEN: A Thrilling New Musical
Fort Lauderdale, Florida Teen Session One (2011)

Synopsis:
In the Golden Age of the 1950's nobody loves monster movies like the residents of Council Grove. When Beffarte Studios chooses the quiet town as the location for their newest movie, Monster Homecoming, the townspeople couldn't be more ecstatic. It's lights, camera, monsters when the film crew arrives and mysterious events start to occur. As shadows begin to appear in the windows of the local haunted house, a group of scrappy teenagers find themselves in the middle of their very own monster movie. They Came From the Silver Screen! A Thrilling New Musical will leave your spine tingling and the hair on the back of your neck standing up. It's a show in thrilling 4-dimension, with scares so bone-chilling, you'll be lucky to leave the theater alive.
Written by the students and staff of the 2011 Session one workshop Fort Lauderdale, FL.:
STUDENTS: Nicolas Aquino, Miriam Bedrin, Dani Ben-Reuven, Hallee Bernstein, Alexandria Bonomo, Brian Brant, Jamie Cohen, Jared Corak, Elisabeth Elder, Michelle Grace, Samantha Highsmith, Samuel Janvier, Kimberlee Johnson, Murielle Joseph, Ryan Juda, Hadley Knapp, Megan Kuiper, Jillian Metzger, Alana Miller, Daniel Navon, Justin Odom, Albert Ohlin, Adele Oliver, Melissa Olster, Agnes Oredsson, Agneta Ottosson, Melinda Page, Maxwell Pineiro, Brian Pridgeon, Stefanie Prieto, David Roberts, Benjamin Roberts, Francesca Rousseau, Sara Sako, Natalia Salomon, Christina Serrato, Tara Shafa, Sydney Shiekman, Dorie Spangler, Sherie Spangler, Jonathan Tilkin, Matthew Tribby, Brandon Vilarello, Rachel Wallack
STAFF: Carrie Gilchrist- Stage Director/Associate Artistic Director, Nathan Tysen- Assistant Director, Ryan McCall- Music Director, Marcus Davis- Choreographer, Jamie McCall- Script Editor, Jason Pomerantz- Assistant Music Director, Tyler Grimes- Assistant Script Editor, Jacob Jeffries- Music Assistant, Gabby Groten- Creative Assistant, Tobi Nagy- Media and Design, MaryLu Odom- Technical Director, Antonia Martinez- Assistant Technical Director, Katie Masi- Intern in Tech, Nori Tecosky- Intern in Tech, Shelly Bernstein- Administrator, Lauri Oliver- Assistant Administrator
Listen to They Came from the Silver Screen on Listenwell: A Lovewell Podcast NOW!
See photos from They Came from the Silver Screen here.