100,000 Volt: En musikal utanför kretsen
Lovewell Junior Lomma, Sweden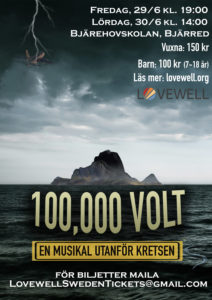 June 18th-29th, 2018
Synopsis (In Swedish);
I Statiska Staten är invånarna fyllda av energi och elektricitet, som de använder för att ladda sig själva och sina medmänniskor. Plötsligt börjar elen försvinna från Statiska Staten och ingen vet varför. Regeringen gör inget åt saken, så några barn beslutar sig för att resa till en mytomspunnen elektrisk ö för att hitta en lösning. Vad är det för hemlighet ön gömmer, och kommer barnen hitta ny el, eller är det redan för sent?
Synopsis (In English):
In the static state, the inhabitants are filled with energy and electricity, which they use to load themselves and their fellow citizens. Suddenly the electricity starts to disappear from the static state and no one knows why. The government is not doing anything about it, so some children decide to travel to a mythical electric island to find a solution. What's the secret the island is hiding, and will the kids find new electricity, or is it already too late?

Written by the students and staff of the June 2018 Junior Lomma, Sweden Lovewell workshop.
Students:
Holger Bengtsson, Ebba Berggård, Frida Berggård, Freja Berglund, Liv Boronska Jomaron, Alice Cederpil, Awa Cissoko, Märta Ericson, Sara Erlandsson, Sofia Follin, Lovisa Fredricson, Kashi Gravesen, Isabella Hedenskog, Tyr Hyberg, Calle Jansell, Hedda Jisander, Hanna Jonsson Nordin, Alice Juhlin, Niki Kalpakidis, Sindra Kandell, Vera Klasson, Leo Kuprijanko, Ylva Lindberg, Bella Lodén Nilsson, Mira Loftrup, Erik Oldbring, Edith Rosén, Signe Strömblad, Marit Thunnissen, Astrid Wickenberg
Staff:
Regissör: Carolin Oredsson; Musikansvarig: Annika Marmén; Assisterande musikansvarig: Johanna Ekholm;  Koreograf: Jonna Hägglund; Manusansvarig: Fredrik Davidsson; Scenograf: Jen Laudia; Rekvisita & Kostym: Amanda Brauer; Assisterande Scenograf: Maja Lindberg; Intern: Liv Granath; Intern: Anna Klang; Intern: Karin Malmgren; Administratör: Birgitta Petersson; Konstnärlig Ledare: Carrie Gilchrist; Lovewell Sweden Chapter Manager: Jen Laudia
Watch this show on our Vimeo Page: