A NOVEL INSIGHT:
A Musical Bestseller
Dayton, Ohio (2008)
In partnership with The Human Race Theatre Company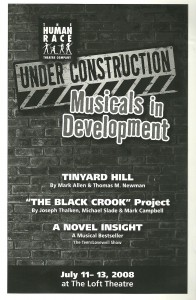 Arthur the author is a little unsettled. His temperamental manager is breathing down his neck for a best selling novel, the countless hours he's spent at the library have left him conversing with legendary fictional characters from novels past, and he thinks he's fallen for the local librarian- a.k.a. his manager's wife. As Arthur becomes increasingly involved in the dysfunctional dynamics of his manager's family, his novel develops into an absurdist interpretation of their lives. But the deeper Arthur immerses himself in his writing, the further he slips from reality into his imagination. Is he going mad or just on the verge of something great? A Novel Insight is a charming, whimsical musical that invites you to read between the lines!