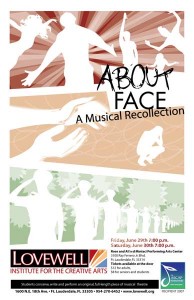 ABOUT FACE: A Musical Recollection
Fort Lauderdale Teen (2007)
This avant-garde musical narrated by a colorful group of players deals with the broad ideas of war and the effects it has on soldiers and those that are left behind.  There are a group of Wanderers who bring a human element to the story, a group of soldiers who illustrate the mechanics of a conflict, and the group of players who poetically and comically guide us through the story, shedding light onto the many challenges faced by war torn communities.


In a one of the final moments, an emotional reunion takes place between a young daughter and her father who has been away fighting in the war They sing the song "Home in You," which is in the Lovewell Songbook and can be purchased on iTunes HERE.
About Face is for rent in our catalogue of new works.
Watch About Face on Vimeo NOW!
Conceived, written and composed by the students and staff of Lovewell Institute for the Creative Arts 2007 Fort Lauderdale Teen Workshop.
STUDENTS: Stephanie Anarumo, Lauren Anderson, AJ Charlip, Hali Charron, Felicia Danio, Michael Finke, Eric Flemons, Kyle Garcia, Kaitlin Geraigiri, Nia Gonczi, Jose Gonzalez, Tyler Grimes, Maja Haglund, Jenna Iden, Derek Jayson, Luke Katler, Anna Kerr, Megan Kuiper, Robert Martinez, Angela Miller, Hannah Morse, Meagan Nagy, JD Odom, Justin Odom, Lizzie Ohrablo, Tallulah Honey Mermaid Orcel, Rhiannon Palardy, Brielle Rassler, Scott Rifkin, David Roberts, Ali Rodriguez, Nicole Sanderson, Ali Sherberg, Cassie Spangler, Dorie Spangler, Zach Snow, Helena Sund, Brandin Tolbert, Ambar Torres
STAFF: Carrie Gilchrist: Associate Artistic Director/ Stage Director/Program Set Up, Ryan McCall: Musical Director, Jamie Johnson: Script Editor, Shannon Draper-Gard: Assistant Stage Director, Marcus Davis: Choreographer, Maria Eriksson:Assistant Music Director/Vocal Coach, Joseph Hagen: Media and Design, MaryLu Odom: Costume & Set Design, Tobi Nagy: Production Assistant
Back to the List of Past Shows