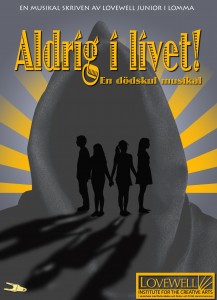 Aldrig i Livet! Never in My Life! 
Lomma, Sweden Junior Workshop (2011)
Synopsis:
Four people's numbers are up, but only 1 afterlife can be chosen. Where would you choose to spend an eternity? A mix-up in Death's lottery system means four strangers must agree upon a single afterlife. The choice isn't easy, especially with meddling gods, relentless afterlife salesmen, and the grim reaper himself breathing down your neck to make a decision. But with an infinite number of options, it can't be that bad, right? RIGHT?! Aldrig i Livet may send you to an early grave, but you'll be laughing all the way!
Back to the List of Past Shows