DISCONNECTED: A Musical @CampEnehana
Fort Lauderdale, Florida Junior Session Two (2016)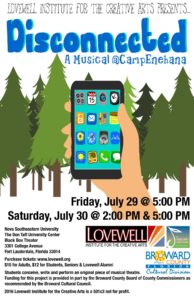 Synopsis:
After being sent away to Camp Enehana- a camp for the technologically obsessed- a group of young campers must face their addictions head on. During their stay they embark on a journey that forces them to look at the world around them.
Written and composed by the students and staff of the 2016 Lovewell Junior Fort Lauderdale Session Two workshop (July 11th­ – 31st, 2016)
Students:
Arianna Abril, Sofia Aronsky, Grace Botsford, Hannah Coleman, Liam Connor, Alexa Deeter, Mia del-Toro-Ivey, Morgan Gold, Brooke Harrison, Redlee Magloire, Maddie Musso, Sophia Newman, Simon Ostrower, Ava Scott, Shayna Soffer, Madelyn Streisfeld, Cassidy Stumer, Lindsay Stumer, Leah Tomas, Kaylie Tripp, Nicolas Vela
Staff:
Director- Ambar Torres; Assistant Director- Christina Serrato; Co-Music Director – Sherie Spangler; Co-Music Director- Spencer Robelen; Script Editor- Jordan McKinnon; Choreographer- Amber Allgyer; Tech Director- Joe Rawda; Assistant Technical Director- Christian Wong; Props and Costumes- Cameron Jordan; Props and Costumes Assistant- Andie Garcia; Interns- Stefanie Prieto, Adele Oliver; Tobi Sarah Nagy- Director of Media and Design; Administrators- Shelly Bernstein, Lauri Oliver; Fort Lauderdale Chapter Manager: Tyler Grimes; Producing Artistic Director- Carrie Gilchrist
Watch Disconnected on Vimeo NOW!