Do Robots See Shapes in the Clouds?: A New Musical
Lovewell Teen Oskarshamn, Sweden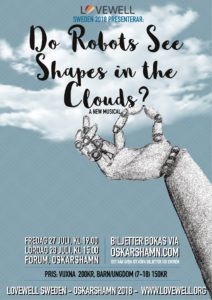 July 9th-28th, 2018
Synopsis:
In the not too distant future, robots and humans face an uncertain future. Together they have elected the first ever android leader to help them move forward together, away from drastic, emotional decisions, and instead toward a society based on logical, rational leadership. In the struggle of human versus machine and love versus logic, who will triumph? Will the future look like our world does today or will it be controlled by the machines we built.
Written by the students and staff of the July 2018 Teen Oskarshamn, Sweden Lovewell workshop.
Students:
Sydney Belabin, Yuval Benit, Adina Carlinger, Milla Cerne, Agnes Elg,  Martina Fasen, Maria Fredheim, Anna Furebring, Lilly Gitlitz, Nemat Gul, Maya Hörnberg, Foster Hirsch, Lova Jansell, Rasmus Jansell, Livia Karlsson, Anna Klang, Märta Klasson, Tea Kratz, Hanna Lundmark, Ella Magnusson, Malin Magnusson, Klara Maher, Niklas Maher, Karin Malmgren, Moa Melkersson, Alma Nilsson Jakobsson, Hilma Persson, Daniel Pihl, Mika Reis, Isabella Reis, Victoria Sanders, Alva Smedberg, Tilde Smedberg, Pavel Solovey, Camden Stankus, Lucas Strid, Tilde Strömberg Rye, Alrik Strömblad, Nina Wardaeus, Johanna Widov, Clara Wärnsberg, Kitty Zirnig Andersson
Staff:
Director: Carrie Gilchrist; Assistant Director: Jen Laudia; Co-Music Directors: Nils-Petter Ankarblom, Mats Petersson; Choreographer: Marcus Davis; Script Editor: Marjorie Spangler; Assistant Script Editor: Angie Sohlberg; Costumes and Props: Amanda Brauer; Technical Director: Kenny Duecker; Graphic Design, Social and Multi-Media Manager: Briannon Dinsdale; Residential Manager: Malin Bridger; Administrator: Birgitta Petersson; Lovewell Sweden Chapter Manager: Jen Laudia; Producing Artistic Director: Carrie Gilchrist
Watch this show on our Vimeo Page SOON!
Production Photos: