Ett Hopp i Tiden: En Klockren Musikal (A Leap in Time: A Musical to Watch)
Lomma, Sweden Junior workshop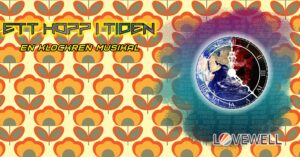 Året är 2021 – människorna blir mer och mer slösaktiga och miljökrisen är ett faktum. En grupp barn åker på en episk tidsturné för att rädda världen och framtiden.Kommer barnen lyckas? Och vad kommer hända med jorden?
The year is 2021 – humanity is becoming more and more wasteful and the environmental crisis is a fact. A group of kids embark on an epic journey through time to save the world and the future. Will the kids succeed? And what will happen to the earth?
Written by the students and staff of the June 2021 Lomma, Sweden Lovewell junior workshop:
DELTAGARE:
Selma Almgren, Astrid Ankarblom, Lily Axnér, Freja Berglund, Leia Carlsson, Linn Carlsson, Anna Carlstedt, Märta Ericson, Em Follin, Tuva Gardell, Henriette Humbert, Frida Jungner Ekmark, Juliette Karlsson, Kerstin Karlsson, Birk Lindberg, Ylva Lindberg, Julia Lundqvist, Majken Müntzing, Lovali Rosenqvist, Vera Salomonsson, Majken Skalberg, Edith Wallström, Amanda Östheden
LEDARE:
Regissör: Liv Granath; Assisterande Regissör: Nina Wardaeus; Musikansvarig: Ivar Lodén Håkansson; Assisterande Musikansvarig: Gabriella Marmén; Koreograf: Ella Magnusson; Manusansvarig: Lucas Strid; Assisterande Manusansvarig och Grafisk Design: Rasmus Jansell; Assisterande Manusansvarig och Assisterande Scenografi och Kostym: Malin Magnusson; Intern: David Digman; Intern: Tilde Strömberg Rye; Administratör: Birgitta Petersson; Administratör och Ansvarig Scenografi och Kostym: Maja Lindberg; Ansvarig Scenografi och Kostym: Magnus Lindberg; Konstnärlig Ledare: Carrie Gilchrist