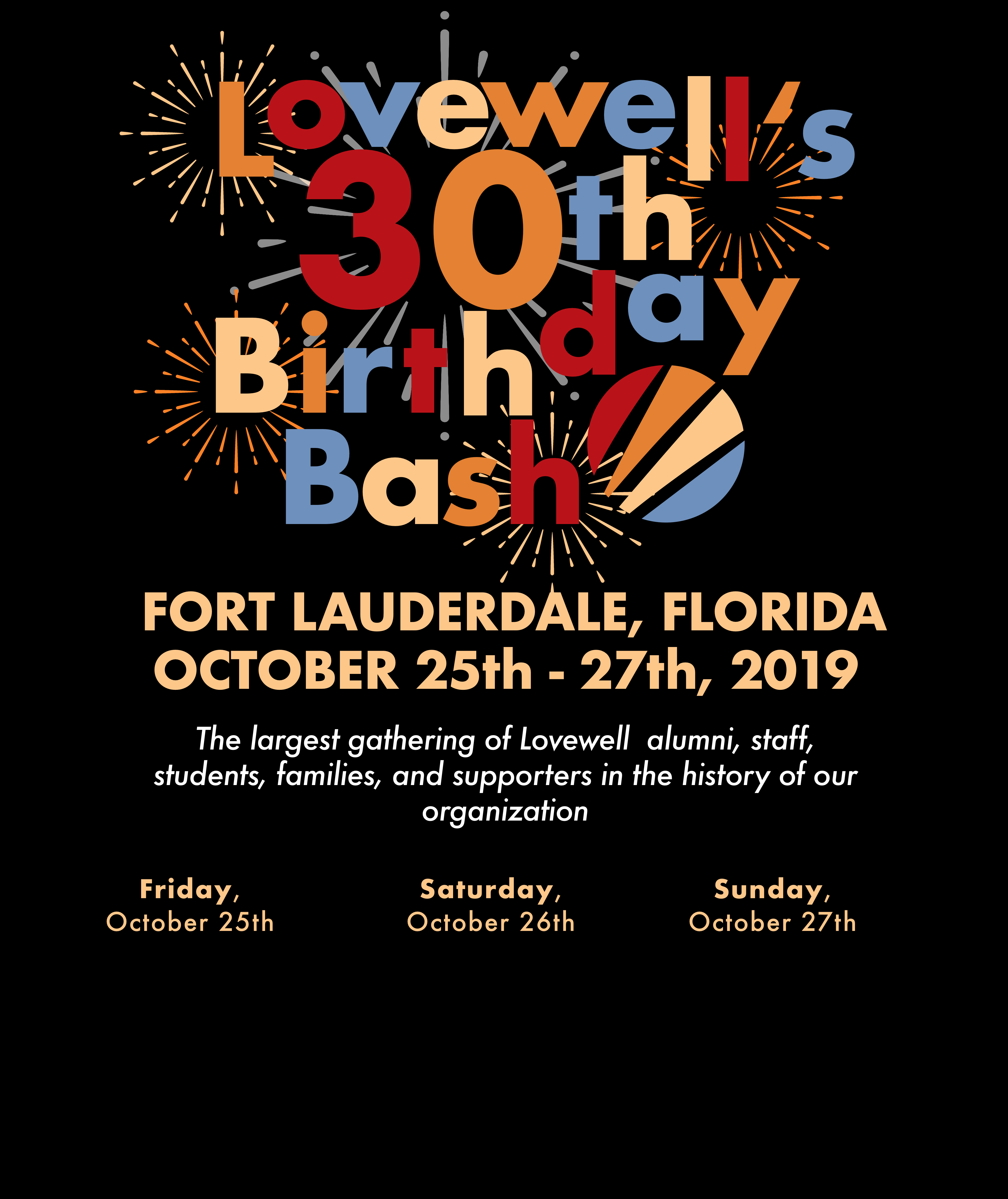 12 Apr

Lovewell's 30th birthday Bash Event Tickets
Gala Event (Lovewell's 30th bday bash)


October 26, 2019




6:00 pm - 11:00 pm

Barbecue Event


October 27, 2019




1:00 pm - 4:00 pm

Lounge Event


October 25, 2019




8:00 pm - 11:30 pm
In 2019, Lovewell Institute for the Creative Arts turns 30 years old! Can you believe it?
In that time, Lovewell has partnered with students, local organizations and schools to write and produce over 200 musicals and concerts. Yes, that's over 200 musicals written by the students of Lovewell. More than 100 of those were written in Florida, 50 of those shows were written across Sweden. More than two dozen in Kansas. More than a dozen in Ohio. More than half a dozen in New York. With additional musicals written around the United States and abroad in Italy and Russia. In addition, we have published two songbooks, produced a documentary film entitled Boundless and have built a catalogue of our original shows available for licensing around the globe. Because of the work we do, thousands upon thousands of students in four countries on two continents have learned that their voices can and must be heard.
That is something we must celebrate! ALL alumni, families, former staff, board members and fans are invited to the THREE DAY celebration in Fort Lauderdale, Florida October 25th, 26th and 27th, 2019.  There will be free events, a gala evening, an outdoor gathering and more good times than anyone can handle. It would be our joy to have alumni from throughout the years come and toast the little organization that went from one workshop in Salina, Kansas to countless workshops around the globe!
The following are our events for the weekend. There are limited tickets to all events, so please book well in advance. Also find hotel info below.
Friday, October 25th from 7pm-11pm
LOUNGE EVENT
WHERE: Modern 60's Wine Lounge
1828 E. Sunrise Blvd (next to the Gateway Theater) For Lauderdale, 33304
TICKETS: This is a free event, open to those 15 and over (accompanied by an adult). Cash bar/food on separate tabs.
Saturday, October 26th from 6pm-11:00pm
GALA EVENT
WHERE: Historic Maxwell Room in downtown Fort Lauderdale
10 S New River Dr E, Fort Lauderdale, FL 33301
TICKETS: open to those ages 8 and up
$110 ADULT TICKET INCLUDES:
3 hours open bar (beer and wine); Appetizers; Buffet dinner; Live entertainment/toasting and roasting Lovewell
 $85 STUDENT (under 21) TICKET INCLUDES: 
Appetizers; Buffet dinner; Live entertainment/toasting and roasting Lovewell
Sunday, October 27th from 1pm-4pm
BARBECUE EVENT
WHERE: Park and Ocean
3109 E Sunrise Blvd, Fort Lauderdale, FL 33304
TICKETS: $12 per person (includes barbecue buffet). Open to those of all ages.
HOTEL: The Victoria Park Hotel (All rooms are booked at this time. Call the hotel for availability and let them know you are with Lovewell to try to secure a discounted rate.)
855 NE 20th Ave, Fort Lauderdale, FL 33304
+1 (754) 888-5002
WHEN: Friday, October 25th-Sunday, October 27th
Please note the Mod 60's wine bar and Park and Ocean are within walking distance of the hotel. We advise taking an Uber to the Saturday gala event as there is limited parking. If you are flying into FLL, you do not need to rent a car if you do not want to, as all events are easily accessible.