Förbjuden Mark: En Skrockfull Musikal
(Forbidden Ground: A Superstitious Musical)
Lovewell Junior Lomma, Sweden
June 14th-June 28th, 2020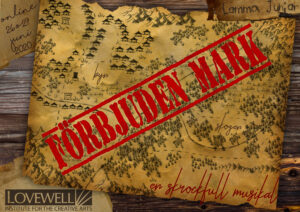 Synopsis:
We are in a world where humans and magical creatures live separately, the humans in a village and the creatures in an enchanted forest. The two communities have myths and prejudices about each other and even laws which state that it is forbidden to cross the land of the others, but the children of the village have now begun to question their parents' old traditions. In the musical "Förbjuden Mark, En Skrockfull Musikal", we follow the children's journey to the forest and learn about the consequences this journey will have on the world of both the humans and creatures. Is it possible for two different worlds to live in harmony? Will the myths and prejudices that the worlds are built on ever disappear or is the fear they feel for each other too great?

Vi befinner oss i en värld där människor och väsen lever separat, människorna i en by och väsendena i en magisk skog. Båda folken har myter och fördomar om varandra och även lagar som säger att det är förbjudet att korsa de andras mark, men nu har barnen i byn börjat ifrågasätta deras föräldrars gamla traditioner. I musikalen "Förbjuden Mark, En Skrockfull Musikal" följer vi barnens resa till skogen och får veta vad denna resa har för konsekvenser för både människornas och väsendenas värld. Är det möjligt för två olika världar att leva i harmoni? Kan de myter och fördomar som styr deras samhälle någonsin försvinna eller är rädslan de känner för varandra allt för stor?
Written by the students and staff of the June 2020 Lovewell Junior Lomma, Sweden workshop.
Students:
Selma Almgren, Astrid Ankarblom, Frida Berggård, Freja Berglund, Adam Bridger, Elvira Bridger, Edith Carlander, Linn Carlsson, Anna Carlstedt, Elin Carlstedt, Alice Cederpil, Smilla Dellgran Fejgin, Märta Ericson, Sofia Follin, Emelie Follin, Wilmer Franzén, Melwin Franzén, Tuva Gardell, Molly Hallbäck, Vera Klasson, Julia Lundqvist, Majken Müntzing, Folke Ohlander, Erik Oldbring, Majken Persson Lännerberg, Vendela Rolf, Lovali Rosenqvist, Wilma Sandström, Amanda Silverdotter, Edith Wallström, Amanda Östheden
Staff:
DIRECTOR : Liv Granath
ASSISTANT DIRECTOR : Nina Wardeaus
MUSIC DIRECTOR : Ivar Lodén Håkansson
ASSISTANT MUSIC DIRECTOR : Gabriella Marmén
CHOREOGRAPHER : Frida Furebring
SCRIPT EDITOR : Anna Klang
GRAPHIC DESIGN : Cecilia Träff
INTERN : Rasmus Jansell
INTERN : Lucas Strid
ADMINISTRATORS : Maja Lindberg and Birgitta Petersson
PRODUCING ARTISTIC DIRECTOR : Carrie Gilchrist

Watch the stream of this show via the Lovewell Facebook page: