Game Changer: A Pixelated Musical
Lovewell Junior Session One Ft. Lauderdale, Florida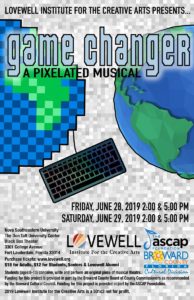 June 10th-June 30th, 2019
Synopsis:
Come find your escape from reality! In the not-so-distant future, Pixel Planet, the world's greatest environmental video game, has taken the world by storm. Gamers from all over the world strive to reach the top of the leaderboard, and the creators of Pixel Planet are raking in the cash. But as the game gains more and more popularity, the real world seems to fall through the cracks, becoming less and less habitable at a rapid pace. Will the world wake up from their virtual dreams, or will they all wait for a Game Changer: A Pixelated Musical?

Written by the students and staff of the Lovewell FLL Junior Session One workshop.
Students:
Kayra Arik, Anais Basset, Neo Basset, Isabella Bello, Emiliana "Nana" Boulton, Chloe Marie Christofidis, Hannah Czerniejewski, Anna Dallal, Carma Elizabeth Dallal, Joshua Diaz, Leah Egozi, Maxfield Feinberg, Kelsie Harrison, Maia Munera, Farah O'Halloran, Emerson "Emi" Optekar, Daniela Sofia Pulido Klug, Persy Sanchez, Mia Talmasky, Reagan Tripp, Thomas Wallace, Dwaine Weeks
Staff:
DIRECTOR: Kimmi Johnson, MUSIC DIRECTOR: Shelbie Rassler, ASSISTANT MUSIC DIRECTOR: Kiara Negroni, CHOREOGRAPHER: Gianna Milici, SCRIPT EDITOR: Carlo Feliciani Ojeda, TECHNICAL DIRECTOR: Cassidy O'Neal, ASSISTANT TECHNICAL DIRECTOR: Sasha Arango, SOCIAL AND MULTI-MEDIA COORDINATOR & GRAPHIC DESIGNER: Tobi Sarah Waldron, ASSISTANT SOCIAL AND MULTI-MEDIA COORDINATOR: Sydney Belabin, HEAD OF JUNIOR COSTUMES AND PROPS: Kaitlin Feinberg, CO-ADMINISTRATORS: Lauri Oliver & Shelly Bernstein, FLL CHAPTER MANAGER: Tyler Grimes, PRODUCING ARTISTIC DIRECTOR: Carrie Gilchrist
Funding for this project is provided in part by the Broward County Board of County Commissioners as recommended by the Broward Cultural Council.
Watch the full production of this show courtesy of the Lovewell Vimeo Page