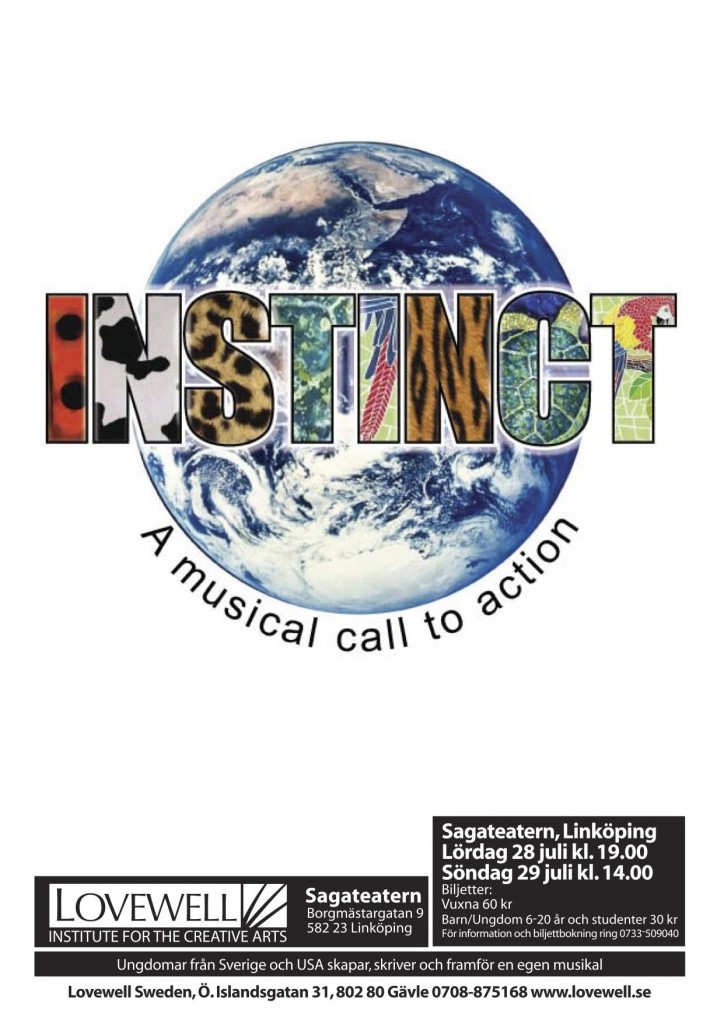 INSTINCT: A Musical Call To Action
Oskarshamn, Sweden Teen Workshop (2007)
After seeing a message in the sky from Mother Nature, animals take action and gather to save the earth from impending doom. They hear testimonies from a variety of species and humans are deemed responsible for the destruction of the earth. The solution to the problem? Wipe humans out "dino-style", of course. But before such a plan can be enacted, a quiet observer throughout the court hearing, a unicorn, stands up as the embodiment of the one saving grace of the human race: "Dreams and Imagination." Not only are humans capable of major destruction but also wondrous creation. In light of this, the animals decide to give humans a second chance.
Conceived, written and composed by the students and staff of the Lovewell Institute for the Creative Arts 2008 Oskarshamn Sweden Workshop.
STUDENTS: Agnes Billgren, Martina Bjäre, Luisa Björkman, Emily Crim, Rickard Edman, Eric Flemons, Kaitlin Geraigiri, Mathlida Gustafsson, Ellen Isaksson, Sandra Kassman, Jesper Lissmark, Katie Masi, Jocke Nilsson, Albert Ohlin, Ellen Oredsson, Erika Renström, Scott Rifkin, Omri Rolan, Lindsay Rosenthal, Natalija Sako, Sara Sako, Brita Sandebäck, Cecilia Träff, Ebba Wilhelmsson
STAFF: Carrie Gilchrist: Associate Artistic Director/ Director, Birgitta Petersson: Administrator, Nils-Petter Ankarblom: Music Director, Mats Petersson: Assistant Music Director, Andreas Hedlund: Music, Marjorie Spangler: Script Editor, Meagan Nagy: Choreography, Maria Eriksson: Vocal Coach, Jenniffer Nilsén: Costume/Set/Vocals, Tomas Anderson: Sound Design, Joseph Hagen: Design
Download "Dreams and Imagination" from the Lovewell Songbook on iTunes.