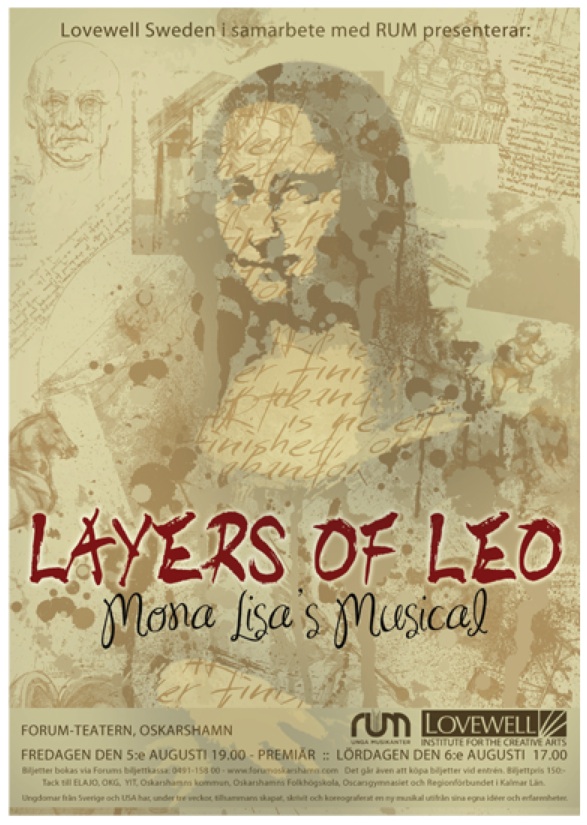 LAYERS OF LEO: Mona Lisa's Musical
Oskarshamn, Sweden Teen (2011)
In partnership with RUM
Synopsis:
Layers of Leo: Mona Lisa's Musical is a rollicking exploration of the life and work of the legendary renaissance man, Leonardo Da Vinci. Da Vinci comes to life through the eyes of Mona Lisa as we follow her own striking transformation. An international household name 500 years after his death, discover the man behind the easel. Viva Da Vinci!
Synopsis in Swedish:
Layers of Leo: Mona Lisa's Musical är en färgsprakande musikalisk inblick i den legendariska renässansmannen Leonardo Da Vincis liv. Da Vinci kommer till liv genom Mona Lisas ögon och vi får även följa hennes spännande utveckling från första skiss till den slutgiltiga tavlan som nu är ett av världens mest kända konstverk. 500 år efter sin död är Da Vinci fortfarande ett namn som alla känner till. Upptäck vem han egentligen var. Viva Da Vinci!
Written by the students and staff of the 2011 Oskarshamn, Sweden summer workshop:
STUDENTS: Jessica Aquino, Nicolas Aquino, Alina Berg, Daniel Bergenzaun, Agnes Billgren, Cody Brinson, Axel Carlsson, Mattias Eidevall, Frida Furebring, Jessica Gravlund, Jonna Hägglund, Erika Jönsson, Catja Larsson, Rebecca Lejdå, Lisa Nilsson, Olle Nordström, Michaela Norén, Ally Potter, Ryan Rasmussen, Philip Siemund, Sydney Shiekman, Johan Starwing, Joakim Stranke, Frida Thelin, Josephine Thunell, Matthew Tribby
STAFF: Carrie Gilchrist (Director/Associate Artistic Director), Nils-Petter Ankarblom (Co-Music Director), Nathan Tysen (Co-Music and Co-Director), Mats Petersson (Co-Music Director), Tobi Sarah Nagy (Assistant Director), Margie Spangler (Script Editor), Josefine Sigvant (Choreographer), Cecilia Träff (Media and Design), Katie Masi (Tech Intern), Elin Persdotter (Music Intern), Birgitta Pettersson (Administrator)
Layers of Leo is available for rent as part of the Lovewell Catalogue
Watch Layers of Leo on Vimeo NOW!
Photos: Studio Eriksson, Oskarshamn