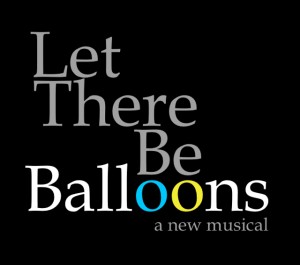 LET THERE BE BALLOONS
Written in Carrolton, Ohio
Readings in Fort Lauderdale, FL; Columbus, Ohio and
Malmö, Sweden (2009)
Lovewell Theatre Project
Full production in Fort Lauderdale in December of 2011 thanks to the wonderful support of FAB!
Conceived, written and composed by the professional artists of the Lovewell Theatre Project: Nils-Petter Ankarblom, Carrie Gilchrist, Rick Gore, Katy Hawley, Jamie Johnson, Mats Petersson, Margie Spangler, and Peter Yockel
Synopsis:
Let There Be Balloons, is a new musical written by 8 artists from Sweden and America using the Lovewell Method. Set in 1994, it is a story about Sarah, a rebellious young woman who returns to her hometown after a tumultuous time in Africa, working as a volunteer. Leaving one kind of chaos, she enters a new one as the town is facing a disaster- the closing of the local balloon factory- the mainstay of the town's economy. Sarah's father is among the majority of the town that has been laid off. He represents the type of old-school thinking that no longer works in the global digital economy.  To earn money to help her family out of their sudden financial calamity, Sara makes a daring move: she signs on to be the surrogate mother for a gay couple in New York. She soon finds herself caught up in the poignant but sometime hilarious drama not just of her own family but the new non-traditional one she is helping to create. Will Sarah's family and the town be able to recover? Is change the only thing that can save them? Let there be balloons…
Purchase "I Won't Need You" from Let There Be Balloons in the Lovewell Songbook Volume One on iTunes.
Photos from the 2011 production at the Fort Lauderdale Museum of Art:
Let There Be Balloons on Facebook
Back to the List of Past Shows