LOCKED IN: En Musikal Inspirerad av Norrmalmstorgsdramat
Oskarshamn, Sweden Teen (2016)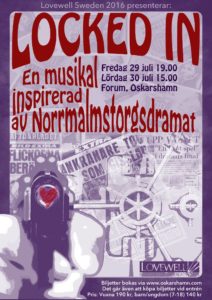 Synopsis in English:
In our own dramatized take on the Norrmalmstorg Robbery, we follow Jamie Hallberg, who on a late summer's day in August 1973, attempts to rob The Bank of Stockholm, taking four banktellers hostage. Sweden has never experienced anything like this, and during the six days following, the robbers, the hostages, the police and the media head into unknown territory to deal with the situation. The connection that forms between the hostages and the robbers are behind the psychological phenomenon that has come to be known as Stockholm Syndrome.
Synopsis in Swedish:
I vår dramatiserade version av Norrmalmstorgsdramat följer vi Jamie Hallberg, som en sensommardag 1973 gör ett försök att råna Stockholms Bank och tar fyra bankbiträden gisslan. Sverige har aldrig varit med om något liknande, och under de kommande sex dagarna behöver rånare, gisslan, polis och media utarbeta strategier för att hantera situationen. Den förbindelse som uppstår mellan gisslan och rånare ligger till grund för det psykologiska fenomen som senare kommer att benämnas Stockholmssyndromet.
Written and composed by the students and staff of the 2016 Lovewell Oskarshamn, Sweden Teen workshop (July 11th – 31st, 2016)
Students:
Brian Brant, Ebba Fornander, Maria Fredheim, Anna Furebring, Liv Granath, Hilda Isaksson, Alma Jakobsson, Rasmus Jansell, Anna Klang, Tea Kratz, Malin Magnusson, Karin Malmgren, Moa Melkersson, Josefin Nilsson, Mikaela Reis, Alva Smedberg, Tilde Smedberg, Cornelia Strandell Malmros, Lucas Strid, Alrik Strömblad, Tilde Strömberg Rye, Alma Svensson, Laurel Thompson, Ellinor Thystrup Svantesson, Clara Wärnsberg, Johanna Widov, Isa Wilund, Kitty Zirnig Andersson
Staff:
Director – Jen Laudia; Assistant Director – Luke Katler; Co-Music Director – Mats Petersson; Co-Music Director – Michael Finke; Choreographer – Marcus Davis; Script Editor – Marjorie Spangler; Assistant Script/ Media and Design – Cecilia Träff; Co-Costumes/Props – Jonna Hägglund; Co-Costumes/Props – Agneta Ottosson; Creative Assistant – Shanara Gabrielle; Administrator- Birgitta Petersson; Producing Artistic Director- Carrie Gilchrist; Lovewell Sweden Chapter Manager – Jen Laudia