Om Jag Fick Drömma: En Produktiv Musikal
Lovewell Junior Lomma, Sweden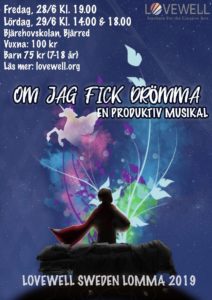 June 16th-June 30th, 2019
Synopsis:
We start the story in a strict society where rules and norms are a top priority, and where a government strives to achieve the highest productivity for the people. The people in the city are suddenly starting to have terrible nightmares. In the same society, we meet a group of imaginative children who receive a secret mission that will lead them into an underground world. Who lives there and what do they want the children to do? Will the nightmares ever disappear?
Written by the students and staff of the Lovewell Junior Lomma workshop.
Students:
Holger Bengtsson, Frida Berggård, Freja Berglund, Liv Boronska Jomaron, Elin Carlstedt, Alice Cederpil, Awa Cissoko, Märta Ericson, Tindra Falkinger, Sofia Follin, Lova Forfang Righard, Wilmer Franzén, Lovisa Fredricson, Johanna Granbom, Dante Göransson, Sonja Holm, Jana Hub, Hedda Jisander, Viggo Jisander, Alice Juhlin, Sindra Kandell, Leo Kuprijanko, Nike Kuprijanko, Ylva Lindberg, Julia Lundqvist, Mira Loftrup, Johan Mällroth Franzén, Edith Rosén, Amanda Silverdotter, Ella Strandberg, Signe Strömblad, Edith Wallström, Astrid Wickenberg, Melker Wickenberg.
Staff:
Regissör: Liv Granath; Assisterande Regissör: Gabriella Marmén; Musikansvarig: Ivar Lodén Håkansson; Koreograf: Frida Furebring; Manusansvarig och Mediaansvarig: Jonna Hägglund; Scenografi och Kostym: Maja Lindberg; Assisterande Scenografi och Kostym: Sherie Spangler; Intern: Lina Nordahl, Intern: Nina Wardaeus; Lovewell Sweden Chapter Manager: Jen Laudia; Administratör: Birgitta Petersson
Watch the full production of this show courtesy of the Lovewell Vimeo Page