OUR AMERICAN BROTHERS: A New Musical
Fort Lauderdale, Florida Teen Session Two (2016)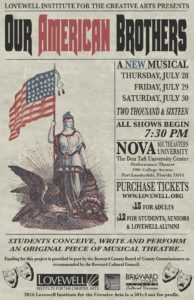 Synopsis:
It's 1865 and the U.S. is struggling to unite. Revisiting a defining moment in history, Our American Brothers; A New Musical tells the story of men and women attempting to understand their place in a nation torn apart by violence and war.
Written and composed by the students and staff of the 2016 Lovewell Teen Fort Lauderdale Session Two workshop (July 11th- July 31st , 2016)
Students:
Brendan Assaf, Lily Avrunin, Sydney Belabin, Rylee Berger, Dakota Brodeur, Brian Chiou, Garrett Colon, Tracy Colon, Gabrielle "Gabi" Diaz, Daley Drucker, Carlo Feliciani, Riley Frost, Lilly "LL" Gitlitz, Katie Hodes, Samantha "Sami" Hodes, Hillary Jacobs, Diamond Jones, Madison Kelleher, Samuel Kelly-Cohen, Mohammad Khalil, Sophia "Sophie" Lopez, Assaf Manor, Sarah McDonald, Gianna Milici, Jacob Miller, Bobby Morales, Uriel Morales, Michael Moser, Julia Musso, Kiara Negroni-Martinez, Dylan Olster, Olivia Philipson, Gabriela "Gaby" Phillips, Clara Pulido, Jack Rollinson, Jennifer "Jenn" Schell, Kimberly Sessions, Shelby Tudor, Nathan Vogel, Jillian Word, Aysha Zackria
Staff:
Director-Tyler Grimes; Assistant Director- Eric Flemons; Script Editor- Dorie Spangler; Co-Music Director – Ryan McCall; Co-Music Director- Jason Pomerantz; Assistant Music Director- Laura Galindo; Choreographer – Meagan Nagy; Technical Director- Joe Rawda; Assistant Technical Director- Christian Wong; Props and Costumes- Cameron Jordan; Props and Costumes Assistant- Andie Garcia; Media & Design- Tobi Sarah Nagy; Intern- Sydney Shiekman; Administrators- Shelly Bernstein, Lauri Oliver; Fort Lauderdale Chapter Manager: Tyler Grimes; Producing Artistic Director- Carrie Gilchrist
Watch Our American Brothers on Vimeo NOW!