Patched: An Unforgettable Musical
Lovewell Teen Session Two Ft. Lauderdale, Florida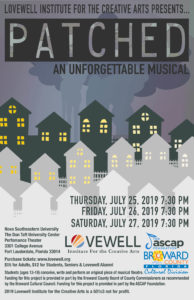 July 8th-July 27th, 2019
Synopsis:
The citizens of Atkins Ridge are trying to piece their town back together after an accident at their local power plant, forcing them to live in unbreathable living conditions. A year later, when Eris & Abel, a global pharmaceutical company, releases BreatheWell, an air filtration patch, all seems to be looking up for Atkins Ridge. But when one of the mayors makes a public blunder, and Eris & Abel blames the presence of brain-altering contaminants in the air, the town is thrown into disarray, where distrust, deceit, and hysteria clog the air like smog. Will the town of Atkins Ridge be saved, or will it fade away into oblivion? Come find out in Patched: An Unforgettable Musical.
Written by the students and staff of the Lovewell FLL Teen Session Two workshop.
Students:
Arianna Abril, Sam Bailey, Saige Becker, Audrey Blinman, Grace Botsford, Brooke Bowser, Ryan Cullen, Katie Dohner, Morgan Gold, Ryan Isenman, Peter Koltis, Janessa Machado, Redlee Magloire, Marlena Marg Bracken, Maddie Musso, Susanna Ninomiya, Lily Rubenstein, Olivia Philipson, Ash Scorca, Amit Shwartzbach, Darby Silverman, Jackie Sinai, Camden Stankus, Madelyn Streisfeld, Cassidy Stumer, Lindsay Stumer, Leah Tomas, Nicolas Vela, Sophie Vega, Aysha Zackria
Staff:
DIRECTOR: Ambar Torres, ASSISTANT DIRECTOR: Gianna Milici, CO-MUSIC DIRECTORS: Jacob Jeffries and Shelbie Rassler, CHOREOGRAPHER: Casey Sacco, SCRIPT EDITOR: Carlo Feliciani Ojeda, TECHNICAL DIRECTOR: Cassidy O'Neal, TECHNICAL ASSISTANT: Ilana Isaacson, SOCIAL AND MULTI-MEDIA COORDINATOR: Matt Tribby, GRAPHIC DESIGN: Tobi Sarah Waldron, HEAD OF TEEN COSTUMES AND PROPS: Ben Solmor, INTERN: Connor Hsu, CREATIVE ASSISTANT: Austin Tedesco, CO-ADMINISTRATORS: Shelly Bernstein & Lauri Oliver, FLL CHAPTER MANAGER: Tyler Grimes, PRODUCING ARTISTIC DIRECTOR: Carrie Gilchrist
Funding for this project is provided in part by the Broward County Board of County Commissioners as recommended by the Broward Cultural Council.
Watch the live stream of this show courtesy of the Lovewell Facebook Page: