PROJECT LEGACY: A Musical Imprint
Fort Lauderdale, Florida Teen Session Two (2015)
Made possible by support from the following:
Minto Foundation; Children's Opportunity Group; Susan and Russell Cameron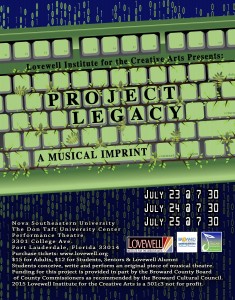 Funding for this project is provided in part by the Broward County Board of County Commissioners as recommended by the Broward Cultural Council.
Synopsis:
Knowing that our time as a species is nearly up, will we make sure our legacy is exactly how we hoped, or are there simpler life lessons still to learn? Humanity's last hope rest on the shoulders of Project Legacy: A Musical Imprint.
Written and composed by the students and staff of the 2015 Lovewell Teen Fort Lauderdale Session Two workshop (July 6th-July 26th, 2015)
Students:
Lily Avrunin, Sydney Belabin, Dakota Brodeur, Brian  Chiou, Shira Cohn, Garrett Colon, Ben Crawford, Daley Drucker, Laura Galindo, Lilly "LL" Gitlitz, Schaefer Grant, Samuel Janvier, Dylan "DingoDyl" Olster, Jacob Miller, Jack Rollinson, Julia Musso, Becky Saka, Quinn Swearingen, Connor Werner, Jennifer Schell, Katie Soldano, Sophia Lopez, Nathan Vogel, Aysha Zackria
Staff: 
Director- Tyler Grimes; Music Director- Ryan McCall; Assistant Music Director- Dave Hamar; Choreographer- Meagan Nagy; Script Editor- Angela Miller; Technical Director- Joseph Rawda; Costumes and Props- Cameron Jordan; Media and Design- Alana Miller; Administrators- Shelly Bernstein, Lauri Oliver; Assistant Administrator- Krissi Johnson;  Producing Artistic Director- Carrie Gilchrist
Watch Project Legacy on Vimeo NOW!