PYRA & NERO: En Musikal Om Igen
Oskarshamn, Sweden Junior (2016)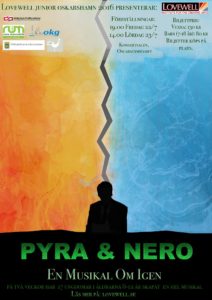 Synopsis in English:
Two Islands collide in the middle of the Atlantic Ocean. The Neró tribe and the Pýra tribe lived without knowledge of each others existence and now their worlds aggregate in ways no one would imagine. Meanwhile GBT send out a camera team to follow the development between the inhabitants of the islands. What will happen when these two mighty people meet? Will they understad each other or will a war erupt?
Synopsis in Swedish:
Mitt ute i Atlanten krockar två öar. Nerófolket och Pýrastammen har aldrig förr träffats och nu kolliderar deras världar fullständigt. Samtidigt skickar GBT ut ett kamera team för att följa utvecklingarna mellan de två öbefolkningarna. Vad kommer att hända när dessa två mäktiga folk möts? Förstår de varandra eller kommer ett krig utbryta?
Written and composed by the students and staff of the 2016 Lovewell Oskarshamn, Sweden Junior Session workshop (July 11th – 23rd, 2016)
Students:
Elvira Bridger, Emil Bridger, Sebastian Brock, Kelly Grattidge, Molly Grattidge, Thea Hörnberg, Maya Hörnberg, Ina Jansson, Wilma Kettelhoit, Moa Kullman, Hanna Lundmark, Niklas Maher, Klara Maher, Annika Maher, Joshua Nathan, Oscar Nathan, Vendela Rolf.
Staff:
Director: Elin Persdotter; Music Director: Marcus Eriksson; Choreographer: Caroline Kolset; Script Editor: Lisa Nilsson; Technical Director/Costumes/Props/Media Design: Jonna Hägglund; Intern: Agneta Ottosson; Administrator- Birgitta Petersson; USA Administrator (not on site): Shelly Bernstein; Producing Artistic Director- Carrie Gilchrist; Lovewell Sweden Chapter Manager: Jen Laudia
Watch Pyra & Nero on Vimeo NOW!