ROSE'S KITCHEN: A Musical The Critics Crave
Fort Lauderdale, Florida Junior Session One (2016)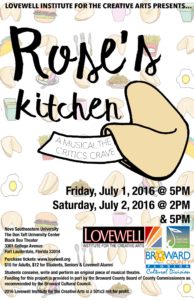 Synopsis:
Welcome to Rose's Kitchen, home of Grandma and Auntie Rose's famous handmade fortune cookies! A family-owned dive with an eclectic menu, Rose's gives locals a place to relax with friends and familiar faces. But when a viral explosion causes tourists to flock to Rose's, the staff must decide the future of their beloved restaurant. Will good fortune come to those who wait? Find out at Roses: a A Musical the Critics Crave!
Written and composed by the students and staff of the 2016 Lovewell Junior Fort Lauderdale Session One workshop (June 13th­ – July 3rd, 2016)
Students:
Arianna Abril, Jake Berube, Emiliana "Nana" Boulton, Jessica Bowlby, Hannah Coleman, Gabriella Egozi, Hannah Egozi, Nicholas Ismailoff, Aly MacDonald, Simon Ostrower, Sophie Pineiro, Jack Schweiger, Jackie Sinai, Cassidy Stumer, Lindsay Stumer, Kaylie Tripp, Simon Vanish, Sofia Wallace, Sophie Vega
Staff:
Director- Ambar Torres; Assistant Director- Christina Serrato; Music Director- Nicolas Aquino; Assistant Music Director- Laura Galindo; Choreographer- Meagan Nagy; Script Editor- Dorie Spangler; Technical Director- Joe Rawda; Props and Costumes- Cameron Jordan; Assistant Technical Director-Christian Wong; Assistant in Props and Costumes- Andie Garcia; Interns- Samuel Janvier, Brian Brant; Media and Design- Tobi Sarah Nagy; Administrators- Shelly Bernstein, Lauri Oliver; Fort Lauderdale Chapter Manager- Tyler Grimes; Producing Artistic Director- Carrie Gilchrist
Watch Rose's Kitchen on Vimeo NOW!