SANDS OF TIME: A Musical Adventure
Fort Lauderdale, Florida Junior Session One (2017)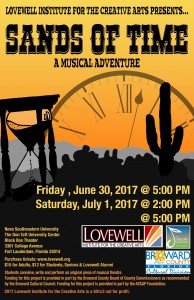 Synopsis:
A group of kids time travel back to the Wild West for the adventure of a lifetime! Their mission? To find a missing hourglass with a strange magical power. But the more they learn about the town they've traveled to, and the mysterious old ladies who sent them there, the more they start to question who to trust and whether every problem can be solved with time.
Written and composed by the students and staff of the 2017 Lovewell Junior Fort Lauderdale Session One workshop (June 12th- July 1st , 2017)
Students:
Abigail Abrams, Saige Becker, Grace Botsford, Jessica Bowlby, Chloe MarieChristofidis, Hannah Czerniejewski, Mia del Toro-Ivey, Joshua Diaz, Gabriella Egozi, Eva Egozi, Leah Egozi, Morgan Gold, Jane Goldsmith, Gabriel Green, Aly MacDonald, Ben Marmer, Liam Miller, Maia Munera, Nicole Nahum, Simon Ostrower, Sophie Pineiro, Sofia Rawda, Lily Rubenstein, Lily Sargent-Burns, Ashlyn Scorca, Madelyn Streisfeld, Cassidy Stumer, Lindsay Stumer, Kaylie Tripp, Sofia Wallace, Tyler Whitten, Hannah Wolnek
Staff:
Director- Kimmi Johnson; Assistant Director- Sydney Shiekman; Script Editor- Dorie Spangler; Music Director -Nicolas Aquino; Assistant Music Director- Shelbie Rassler; Choreographer – Sophie Septoff; Co-Technical Director- Joe Rawda; Co-Technical Director- Riley Hutchinson; Props and Costumes- Cameron Jordan; Co-Media & Design- Tobi Sarah Nagy; Co-Media & Design- Brian Brant; Interns- Samantha Hodes & Sydney Belabin; On-Site Administrator- Lauri Oliver; Off-Site Administrator- Shelly Bernstein; Fort Lauderdale Chapter Manager: Tyler Grimes; Producing Artistic Director- Carrie Gilchrist
Funding for this project is provided in part by the Broward County Board of County Commissioners as recommended by the Broward Cultural Council.
Watch Sands of Time on Vimeo NOW!