TWO LEFT FEET (1985)
(Pilot Program) Philadelphia School of Performing Arts (teens develop script around existing score)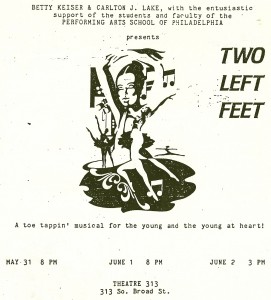 An awkward insecure schoolteacher tries to negotiate the treacherous landscape of romance with the teacher in the next classroom. She doesn't even notice him. The students try to help. They take the teachers to a magical place far beyond the constrictions of the school where they can loosen up, lighten up, and get to know each other a little better. The teachers learn that life can be a beautiful dance – even with two left feet.