TRIBE: A Musical Quest (1993)
Salina, Kansas in cooperation with Unified School District 305 (teens)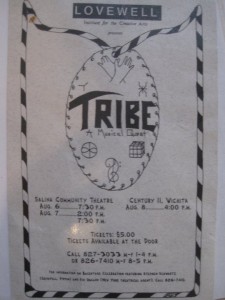 Synopsis:
Civilization on Earth is recovering from a nuclear holocaust. A space shuttle launched to avoid the destruction crash lands in a remote forest. The survivors encounter the conflicts of the five tribes as they struggle to reconstruct a sense of peaceful coexistence and unity. The cultural clashes between the tribes reflect the primitive instincts of our present society and raise the question "What does it take for a civilization to learn from its mistakes?" Surreal, comical, and thought provoking as it is, Tribe weaves elements of ritual theatre, realistic drama and musical comedy into a thoroughly entertaining piece.
Students:
Cesar Abreu, Billy Bailey, James Berka, Jay Bowser, Jason Buck, Tressa Carney, Keith Center, Diana Church, Shannon K. Draper, Roger Ekstrom, Melissa Foster, John Francis, Colin Gallagher, Carrie Gilchrist, Katie Grattan, Kim Gregory, Scott Haden, Zoe Hawkins-Wells, Katy Hawley, Christian Holston, Jhael Jenkins, Jennifer Jochum, Laura Krom, Lily Love, Sonya Manning, Aaron Mason-Sottler, Ryan McCall, Amber McDonald, Sean McLemore, Yovanni Medel, Shawn Nyberg, Susannah Page, David Perez, Michelle Ramos, Michelle Rivers, Mimi Robinson, Joey Salter, Jena Simms, Jesse Simpson, Jesse Stanley, Amy Thompson, Jesper Tyloskoq, Nathan Tysen, Michelle Vignery, Jimmy Winter