STATE OF THE ART (1994)
Salina, Kansas in cooperation with Unified School District 305 (teens)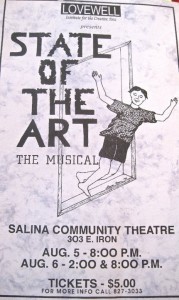 A local art center is the sanctuary for an extraordinarily talented group of young artists. A highly uptight mayor and the city council attempt to close down the center over some controversial exhibitions. The unarmed artists take the city council members and the mayor hostage and give them an art lesson they will never forget.
Written by the students and staff of Lovewell Salina, Kansas 1994
STUDENTS: Billy Bailey, Alexa Barnes, Shermika Baynam, Sarah Berry, Amy Collins, Evie Daniels, Sarah Davis, Emma Fincham, John Francis, Colin Gallagher, Carrie Gilchrist, Scott Haden, Zoe Hawkins-Wells, Katy Hawley, Ben Hensley, Jamie Johnson, Emelie Karlsson, Laura Krom, Sonya Manning, Terrence Mariani, Aaron Mason-Sottler, Ryan McCall, Amber McDonald, Holly McLean, Phoung Nguyen, Jana Nichol, Shawn Nyberg, Brian Reidel, Mary Riordan, Michelle Rivers, Meme Robinson, Mitchell Smith, Amy Thompson, Nathan Tysen, Michelle Vignery, Rachel Wedel, Tim Williams, Amy Joy Williams
STAFF: David Spangler: Director, Gary Wayne: Assistant Director, Music/Script, Tamir Hendelman: Music Director, Randy Filmore: Music, Brett Maltbie: Music, Roman Weber: Music, Kate Lindsay: Administrative Manager, Leslie Alison: Choreographer, Susie Gilmore: Dance, Jewel Sato: Dance, Jan Hein "Digger" Phelps: Design, Deb Wall: Design, Tom Ward: Design, Joel Bicknell: Script/ Counseling Staff, Jeanette Bonjour: Counseling Staff/Vocal Coach
Buy the song "Art is Here" from State of the Art on iTunes
Watch videos from alumni performing songs from State of the Art at the New Works for the New Year events: