SPEAKIN' EASY: A Roaring Musical
Salina, Kansas in cooperation with Unified School District 305 (teens)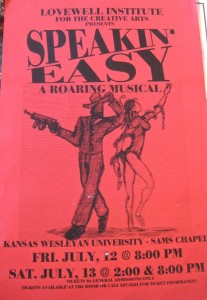 It is 1939 and an invincible Mafia widow has taken over and regrouped her deceased husband's mob into a powerful group of gun-toting molls. The female mobsters add a whole new element to the politics of Prohibition. The Mafia widow is assassinated and her speakeasy, The Everett, is taken over by a rival group of mean-spirited male mobsters. Gumshoes and flappers sing and dance through this sea of corruption as the waters part to reveal how love can conquer even the most cynical society.