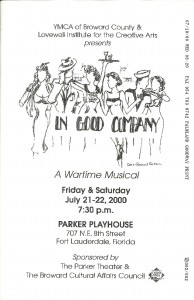 IN GOOD COMPANY (2000)
Ft. Lauderdale, FL in cooperation with the YMCA of Broward County (teens)
The invasion of Pearl Harbor, the troops are moving out and the Tin Lizzie Bar in New York is full of poignant stories, unusual characters and high emotions. The wives, mothers, daughters and sisters of the boys at war examine the issues of survival, anti-Semitism, and a nation in distress. The war is revealed from the perspective of the ones left behind – the men are guilty, the women are lonely and everyone is questioning the basic principles of American life.