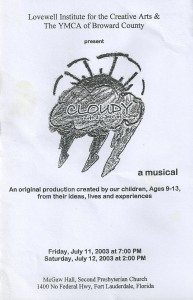 CLOUDY WITH A CHANCE OF CHANGE (2003)
Lovewell JR's third production Ft. Lauderdale, FL in cooperation with the YMCA of Broward County (ages 8-12)
A group of totally bored kids doing their homework during a storm can get into some real trouble. Especially if they leave the window open and the dread "Cloud People" rain in. The Monsters (former Cloud People trapped on Earth) take over Richie's bedroom hold the kids captive and make them find pieces of a puzzle to gain their freedom. The kids learn lessons about the value of friendship and family as they search for the pieces of the puzzle.