LIVSTECKEN: A musical gift (2006)
Linköping, Sweden
Synopsis: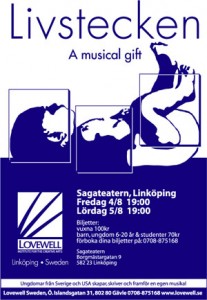 What will you leave behind? A story about the gifts that a newborn child gets from the society, and what we leave behind when we die. The show consists of eight different vignettes, each with a specific theme. In the end of every vignette, an object, that represents the theme, is put in a baby carriage. The collection includes  "family", "freedom", "love", "to find yourself" and "death". Some of the characters that are focused upon are the black sheep of the family, a writer with a troubled childhood, a pregnant teenager and a person with seven personalitites. "Sometimes the changes are unwanted, but without them you wouldn't be right here right now."
Buy the song "Ebulemama" from Livstecken on iTunes

Conceived, written and composed by the students and staff of the Lovewell Institute for the Creative Arts 2006 Linköping, Sweden Workshop.
STUDENTS: Sara Chinikamwala, Susanne Djurle, Tea Harryson, Emilie Holstein, Agnes Josefsson, Antonia Joseffson, Carl-Magnus Juliusson, Mike Kutner, Agnes Malmros, Katie Masi, Anna Ohlin, Erika Renström, David Roberts Kristen Sauder, Cassie Spangler, Malin Strömqvist, Helena Sund, Cecilia Träff, Niclas Zeising
STAFF: Carrie Gilchrist: Associate Artistic Director/American Director, Emelie Lundin: Swedish Director/Program Director, Nils-Petter Ankarblom: Music Director, Henke Harryson: Script Editor, Maria Eriksson:Assistant Music Director/Vocal Coach, Joe Hagen: Director of Media/Design, Orlando Espinosa: Writing Staff, Angelika Roos: Choreographer, Mats Petersson: Music Staff, Christina Sandberg: Marketing, Sofia Lönnberg, Production Assistant, Tomas Andersson: Sound Engineer, Jennifer Nilsén: Vocals
Back to the List of Past Shows