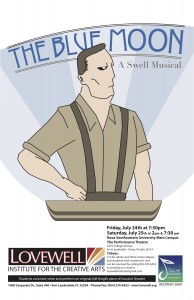 THE BLUE MOON: A Swell Musical 
Ft. Lauderdale, Florida Teen Session Two (2009)
Hot diggity! Something is cooking down at the local diner in Middleton and it's not just today's special. The Blue Moon Diner is the most hopping place in town with the best staff around and regulars such as the two local private eyes and the soon to be world famous, "Dinettes." So when the owner of the diner is faced with financial trouble he is forced to do whatever he can to save everyone's favorite hotspot. How far will he go and what will he risk to win back the diner?
Conceived, written and composed by the students and staff of the Lovewell Institute for the Creative Arts 2009 Fort Lauderdale, Florida Workshop.
STUDENTS: Miriam Bedrin, Hallee Rachel Bernstein, Jamie Xaviar Cohen, Michelle Grace, Samantha Hall, Logan Hammel, Sebastianne Kent, Megan Kuiper, Alana Miller, Justin Odom, Tallulah Orcel, Sydney Pigao, Michelle Pinargote, Alex Pridgeon, Brian Pridgeon, Natalia Salomon, Adrian Silberman, Sheridan Spangler, Maura Stubbolo, Perry Tobin, Amber Torres
STAFF: Jamie Johnson McCall: Director, Ryan McCall: Music Director, Katy Hawley:Script Editor, Marcus Davis: Choreographer, Jennifer Laudia: Assistant Director, Jason Pomerantz: Assistant Musical Director, Tyler Grimes: Script Intern, Derek Jayson: Music Intern, Tobi Sarah Nagy: Media/Design, Meredith Payne: Technical Staff, Michele Bernstein: Administrator, Danny Swerdlow: Assistant Administrator, MaryLu Odom: Costumes/Set , Carrie Gilchrist: Program Director Set Up
Purchase "In Good Hands," from The Blue Moon from the Lovewell Songbook Volume One on iTunes