Tested: A Musical That Will Take You by Storm
Lovewell Teen Session One Ft. Lauderdale, Florida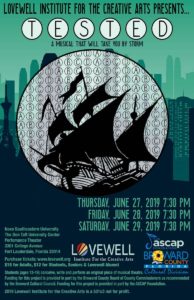 June 10th-June 30th, 2019
Synopsis:
In a world that seems eerily similar to our own, the issue of extreme overpopulation rules every decision. The government has reached a new level of corruption as they use childrens' lives to "solve" this problem. That haunting solution? Creating a test that deems children ages 13-18 as either "Usable" or "Unusable." Watch the drama unfold as villains, unexpected heroes, and citizens who are desperate for change are…Tested: A Musical That Will Take You By Storm.
Written by the students and staff of the Lovewell FLL Teen Session One workshop.
Students:
Elizabeth Abrams, Alana Agresspahl, Gabriella Almonte, Megan Almonte, Saige Becker, Rylee Berger, Austin Bowerman-Sullivan, Jessica Bowlby, Isabella Canizares, Christina Caride, Dante Centofanti, Hannah Coleman, Deborah Cusnir, Aaron Fantacone, Lilly Gitlitz, Jane Goldsmith, Dianna Gonzalez, Heidi Gruenbaum, Katie Hodes, Hillary Jacobs, Emily Kaufman, Ben Marmer, Sergio Marquez, Liam Miller, Dhruv Nair, Carlie Nussbaum, Gabriela Phillips, Sabrina Rapoport, Sophie Roth-Knigin, Lily Rubenstein, Ash Scorca, Maison Shinn, Amit Shwartzbach, Madelyn Streisfeld, Kaylie Tripp, Cassidy Stumer, Lindsay Stumer, Reece Suarez, Dustin Symonette, Sofia Wallace, John Yearick
Staff:
DIRECTOR: Tyler Grimes, ASSISTANT DIRECTOR: Samantha Hodes, CO-MUSIC DIRECTOR: Dave Hamar, CO-MUSIC DIRECTOR: Nic Aquino, ASSISTANT MUSIC DIRECTOR: Laurel Thompson, CHOREOGRAPHER: Adele Oliver, SCRIPT EDITOR: Heather Hamar, TECHNICAL DIRECTOR: Cassidy O'Neal, ASSISTANT TECHNICAL DIRECTOR: Sasha Arango, SOCIAL AND MULTI-MEDIA COORDINATOR & GRAPHIC DESIGN: Tobi Sarah Waldron, ASSISTANT SOCIAL AND MULTI-MEDIA COORDINATOR: Sydney Belabin, HEAD OF TEEN COSTUMES AND PROPS: Ben Solmor, INTERN: Samuel Kelly-Cohen, CO-ADMINISTRATORS: Lauri Oliver and Shelly Bernstein, FLL CHAPTER MANAGER: Tyler Grimes, PRODUCING ARTISTIC DIRECTOR: Carrie Gilchrist
Funding for this project is provided in part by the Broward County Board of County Commissioners as recommended by the Broward Cultural Council.
Watch the full production of this show courtesy of the Lovewell Vimeo Page