THE GLITCHES: A New Musical
New York, New York (2017)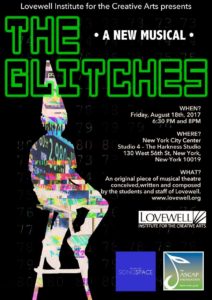 Synopsis:
In a not-so-distant future, all students must go through schooling at The Institute: an inflexible operation in which each student is ranked from best to worst. In this school where one's rank reigns supreme, the students in the bottom class–The Glitches, as they've come to call themselves–have become very familiar with what to expect from this education system: very little. What happens, though, when the rankings inexplicably begin to change right before their eyes?
Written and composed by the students and staff of the 2017 Lovewell NYC workshop (August 7th- August 18th, 2017)
Students:
Daphne Adamson, Lilla Crawford, Savvy Crawford, Julia Maisel-Berick, Nathan Rabinowitz-Buck, Francesca Saladino, Brooklyn Shuck, Sydney Shuck, Kolette Tetlow
Staff:
Program Director- Nathan Tysen, Script Editor- Cassie Spangler, Music Director- Michael Finke, NYC Chapter Manager- Cassie Spangler, Producing Artistic Director- Carrie Gilchrist
Watch The Glitches from its original livestream on YouTube NOW!