UNDERSCORE: A Musical That Will Make the Front Page
Fort Lauderdale, Florida Junior Session Two (2017)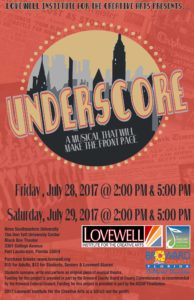 Synopsis:
The 1920's was a time known for its glitz and glamour, especially in New York City. Trouble arises on Broadway when two neighboring theaters find themselves struggling to stay open. Desperate decisions are made and friendships are tested in Underscore: A Musical Making the Front Page.
Written and composed by the students and staff of the 2017 Fort Lauderdale Junior Session Two Lovewell Workshop (July 10th, 2017-July 29th, 2017)
Students:
Abigail Abrams, Caroline Abrams, Arianna Abril, Saige Becker, Sloan Becker, Autumn Bennett-Mazzarella, Grace Botsford, Liam Connor, Deborah Cusnir, Ariel Feldbaum, Emma Ferguson, Morgan Gold, Redlee Magloire, Talia Mandel, Ben Marmer, Maia Munera, Madeline Musso, Simon Ostrower, Daniela Sofia Pulido Klug, Sofia Rawda, Persy Sanchez, Ashlyn Scorca, Ava Scott, Dani Sinai, Daniel Smith, Madelyn Streisfeld, Cassidy Stumer, Lindsay Stumer, Victoria Tami, Mackenzie Tammara, Benjamin Vela, Jackson Werner
Lovewell Staff:
Director: Ambar Torres; Assistant Director: Christina Serrato; Music Director: Nicolas Aquino; Assistant Music Director: Laura Galindo; Choreographer: Adele Oliver; Script Editor: Jordan McKinnon; Co-Technical Directors: Joe Rawda and Riley Hutchinson; Co-Media & Design: Tobi Sarah Nagy (Off-Site) and Brian Brant (On-Site); Costumes & Props: Elizabeth Garrard; Interns in Costumes and Props: Brian Chiou and Clara Pulido; Interns: Jennifer Schell and Jack Rollinson; On Site Admin: Lauri Oliver; Off Site Admin: Shelly Bernstein; FLL Chapter Manager: Tyler Grimes; Producing Artistic Director: Carrie Gilchrist
Watch Underscore on Vimeo NOW!